Automotive Dealerships/Parts Storage Solutions
Small parts bins with sections of drawers close to the counter are ideal for small and high turnover parts. Our modular drawers can be installed in more than 35 brands of shelving, allowing you to keep your existing shelving while benefiting from increased storage capacity.
---
MODULAR DRAWER CABINETS
Freestanding modular drawer cabinets allow you the flexibility to change the layout of your parts room quickly at any time.
---
STACKING CABINETS
The stacking cabinet enables you to add storage space for your medium parts above your small parts storage. For parts that require safekeeping, our doors with locks give you the security you need.
---
COUNTER CABINETS
These cabinets are ideal when installed under a service counter. They enable you to keep high-turnover parts conveniently at hand. Add a stainless steel top for a great service counter.
---
VERTICAL CAROUSEL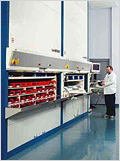 Vertical Carousels consist of rotating shelves that move up or down in response to your commands. The automated storage and retrieval system delivers items to you in a safe and convenient fashion. Vertical carousels increase storage density, throughput and efficiency while reducing inventory and required man-hours.
---
VERTICAL LIFT
Vertical Lifts consist of several trays and an extraction platform. The lift retrieves the tray you require based upon your commands. When you have completed your work, the tray is then replaced in the storage area and the next tray is retrieved.
---
PARTS OR BULKY BINS
The Spider® shelving system is the only one that allows you to alternate the use of shelves (medium parts) and steel decking (large parts) while reducing the number of posts needed by 25%! Our common post enables more storage space. There are a wide variety of accessories available to store any products.
---
MINI-RACKING FOR LARGE PARTS
Mini-Racking is designed for storing heavy and bulky parts. Its many dimensions, combined with a choice of decking, make it possible to have a custom configuration tailored to your own needs.
---
HANGING RACK FOR VARIOUS PARTS
Perfect for hanging exhaust pipes and all other types of objects. The rack is available with 1 or 2 rails and includes hooks. 3 steel decking levels to accommodate storage of bulky parts.
---
BUMPER AND PIPE RACK
For storage of pipes and bumpers while making full use of space on top. Includes dividers to hold parts that can be supported in the bottom of the unit. The divider can be adjusted laterally (left to right) without any tools, and locks in position when a load is applied laterally.
---
HOOD RACK
This rack is designed to hold heavy boxes. As there is no bottom level, there is no need to lift heavy items being stored. 2 steel decking levels enable storage in height.
---
SHEET METAL RACK
Designed to support parts and boxes that are stored vertically. The divider can be adjusted laterally (left or right) without tools, and locks in position when a load is applied laterally.
---
MOULDING RACK
The dividing rods are designed to assure efficient storage for the majority of mouldings.
---
TIRE STORAGE RACK
Our tire rack offers you storage, fast identification and quick access to your tires. The angled beams provide excellent support for your tires. The rack can also be used to store regular rims or wheels.
---
BATTERY RACK
The battery racks are angled 15 degrees in order to improve the rotation of the batteries (first in – first out). Each level of the rack has a stop at the front and 2 guides on the sides to keep the batteries from falling out.
---
BUMPER RACK
Storing bumper covers can be challenging at times. We offer an efficient storage solution with bumper racks, that will keep your bumper covers accessible, save space, and keep your work space attractive and orderly. The supports are easily reconfigured or removed, without tools, when they are not needed.
---
TWO-LEVEL SHELVING
Before building on an addition, consider two-level shelving. Our system maximizes your warehouse storage possibilities by combining shelving, (with or without drawers), Mini-Racking and specialized storage (tire and battery racks, etc.)
---
FREE-STANDING MEZZANINE
Now you can fully utilize existing overhead space and gain valuable parts storage space at a lower cost than new construction. Put the extra space that a mezzanine offers, to work faster with minimal interruption to your working floor area or your production capabilities.
---
PARTS AND MATERIAL LIFT
A Vertical Reciprocating Conveyor (VRC), also referred to as a freight or material lift, is a revolutionary way to move your material from level to level without added effort or time.
---
WIRE FENCING
Modular wire partitioning allows you to quickly and efficiently enclose a secure area for parts night drop or other areas.