Manufacturing
PALLET RACKING
Selective Pallet Racks are the most commonly used pallet storage equipment. Selective racking provides 100% selectivity to every load, since you can always access every pallet. For faster moving product, and the best access, selective racks are the system of choice.
Roll formed – Roll formed racks are constructed of a variety of light gauge, high yield, high strength steel that is shaped in a roll forming machine. Before the steel moves through the machine, the column it is punched with the hole for the connection. Roll formed rack is much easier to install and change elevations. Each time the steel is bent, it increases the load bearing properties of the product. This process allows us to build high capacity racking without the weight of structural racks.

Structural – Structural Pallet racks constructed of hot rolled structural channel extraordinarily capable of withstanding the wear and tear of the toughest environments. This makes structural channel type rack popular in harsh duty applications like freezers, coolers, and distribution facilities.
---
WIRE DECKING
Wire mesh is welded to the top of support channels to create a full width deck to support your pallets. The decking is not flammable like wood and not solid like metal deck. These two features allow light, air and sprinkler water to flow through unimpeded. Wire decking is a great addition for a safe and clean warehouse.
---
PUSHBACK RACKS
Pushback storage increases the pallet count, while offering many more pick faces than traditional high density storage systems. Pallets are placed on carts that ride on inclined rails mounted to standard pallet racking. Each pallet is then pushed back by when the next pallet is loaded. When product is removed, the pallet behind moves forward.
---
PALLET FLOW RACKS

Pallet flow racking uses flow rails with speed controls mounted in standard pallet racking to allow pallets to move by gravity from the loading end to the unloading end. As a load is removed, the loads behind it move forward to the unloading position.
---
CARTON FLOW
Carton flow rack uses gravity, inclined shelves and rollers to deliver product from the restocking to the picking side of the system. The fact that just one carton of each line item is located on the pick face means that a large number of SKU's are presented to the picker over a small area. Walking time is drastically reduced, which increases efficiency in the operation and gives you significant labor savings.
---
FREE STANDING STRUCTURAL MEZZANINE
Reclaim that existing valuable overhead space by installing a custom designed free standing mezzanine designed and built to meet your specific needs. Mezzanines assemble quickly with the simplicity of "erector set" and are constructed to form rugged, high-load-bearing overhead levels. Heavy-duty columns provide rigid support, eliminating obstructing bracing and providing maximum flexibility of movement and utilization of the lower level. Accessories include railings, stairs, landings, swing gates, sliding gates, types of decking and more. The structure can be expanded to meet future requirements.
---
VERTICAL LIFTS
Our material lifts are cost effective, safe and easy means of transporting your materials from one elevation to another. We can convey all types of materials between multiple floors. VRC's allow your forklifts to be used for production purposes.
---
VERTICAL CAROUSELS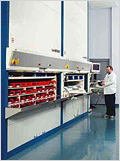 Vertical Carousels consist of rotating shelves that move up or down in response to your commands. The carousel delivers items to you in a safe and convenient fashion. Vertical carousels increase storage density, throughput and efficiency while reducing inventory and required man-hours.
---
DIE SHELVING
Roll-out shelving for dies, parts and maintenance applications reduces needed aisle space and provides increased storage density. 100% shelf extension with as little as 15 lbs. of effort to move 2000 lbs. capacity per shelf. Shelves lock mechanism maximizes safety. Designed to accommodate hoists, lifts and other overhead applications as well as lift trucks.
---
MODULAR DRAWERS IN SHELVING
You can place modular drawers in new shelving or in existing shelving, creating organizational storage where only a couple of flat shelves existed before. You will be able to store boxes on the shelves above your drawers and small parts in your modular drawers. Ergonomically, you can install these drawers at working height if they will contain things that workers use all the time, eliminating bending and stretching. By adding modular drawers to your shelving, you recuperate up to 70% of floor space vs. shelving only.
---
WIRE PARTITIONING
Wire partitioning is the most economical way of securing and protecting your products, equipment and personnel. Woven wire mesh partitions allow for full visibility and air circulation. Available with swing or sliding type doors with a wide variety of locks and lock accessories, service windows and optional ceiling. These are ideal for tool cribs, physical barriers around automated equipment, certified as DEA enclosures, and for storage for seldom used items in condominiums or apartments.
---
PALLET TRUCKS
Many various sizes of pallet trucks are available for almost any circumstance. From a typical indoor low capacity model to high capacity models to all terrain models. We can even provide a pallet truck with a scale or adjustable forks.
---
CANTILEVER RACKS

All welded angled style racks with arms allow you to store pipe, conduit and tubing vertically.
---
MODULAR OFFICES
When changes in your business create new demands for in-plant space utilization, modular offices and enclosures give you unlimited flexibility to respond quickly and cost effectively. Following are a few reasons why modular is preferred over conventional construction: pre-engineered, ease of coordination, speed and ease of installation, no mess, low maintenance, adaptability, sound resistance and accelerated depreciation.
---
SPILL CONTAINMENT
This workstation doubles as drum storage/pump station and as a waste collection center. It will hold up to eight 55-gallon drums with a static load capacity of 8,000 lbs. At 6-1/4″ high, this product is one of the lowest profile compliance spill pallets on the market. It has a 60-gallon sump capacity to catch incidental spills. A ramp is also available with the workstation. It hooks onto the workstation for stability, and it also has 2 gallons of incidental spill capacity. Ramp load capacity is 1,000 lbs.
---
JIB CRANES
When overhead ceiling trolleys aren't available or practical, gantry cranes lift and move heavy, bulky items easily. Tough enough for loading areas, warehouse, and machine shops, indoors or outdoors. Jib cranes mount at any height on wall, column, or building support to give you maximum head room and trolley travel.
---
LIFT TABLES
Scissors style lift tables provide an excellent way to improve the ergonomics of the work environment. The lift table maintains the product at an ergonomic level for the operator whether the pallet is full, partially empty or empty. A variety of controls and accessories are available with each style and capacity of lift table.