Records Storage
PALLET RACKING
Selective Pallet Racks are the most commonly used pallet storage equipment. Selective racking provides 100% selectivity to every load, since you can always access every pallet. For faster moving product, and the best access, selective racks are the system of choice.
Roll formed – Roll formed racks are constructed of a variety of light gauge, high yield, high strength steel that is shaped in a roll forming machine. Before the steel moves through the machine, the column it is punched with the hole for the connection. Roll formed rack is much easier to install and change elevations. Each time the steel is bent, it increases the load bearing properties of the product. This process allows us to build high capacity racking without the weight of structural racks.

Structural – Structural Pallet racks constructed of hot rolled structural channel extraordinarily capable of withstanding the wear and tear of the toughest environments. This makes structural channel type rack popular in harsh duty applications like freezers, coolers, and distribution facilities.
---
MINI-RACKING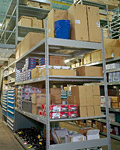 Mini-Racking is designed for storing heavy and bulky parts. Its many dimensions, combined with a choice of decking, make it possible to have a custom configuration tailored to your own needs
---
STEEL SHELVING
Open or closed steel shelving can be utilized with a wide variety of accessories to provide storage of raw materials, work in progress, kits and finished goods. Some accessories include modular drawers, plastic bins, dividers, and mobile aisle carriages.